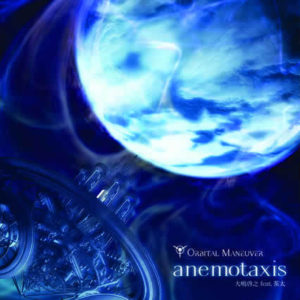 Track List
01. anemotaxis
02. 風タチヌ
03. amrita
04. relative anemotaxis
05. amrita sansara
06. anemotaxis ( no vocal )
07. 風タチヌ ( no vocal )
08. amrita ( no vocal )
Sound Produced by: 大嶋啓之
Vocals & Chorus: 茶太
Concept Making & Lyrics: interface
Art Direction: Ta-k (synesthesia)
Vocal Direction & Mastering: studioCampanella
Produced by: 高橋和也

---
anemotaxis
Compose/Arrange: 大嶋啓之
Lyrics: interface
Vocals: 茶太
She had already suffered when I awoke.
It was a fatal disease though very easy.
In rambling days, and rambling nights,
she weakened without aging.
It's already too late to do a lot of the work.
She ain't gonna look back, I don't have a means.
I can't help but resign myself
to living without your warmth.
And I notice some of causes.
And I know this shade of meaning.
I am flying alone, it is like a swallow
straying from a flight,
falling slowly into borderline.
Still she is shutting her eyes.
He had already gone away when I awoke.
I don't know whether she hoped for my birth.
There's no criminal, no holies,
the gloomy sounds ain't found.
I have no word like a flourish.
Nothing's right, we're already torn.
I am swimming alone, it is like a porpoise
straying from a shoal,
drowning slowly into unknown world.
Still she is shutting her eyes.
"Can you hear this creak of the words?"
"Can you halt this state of the world?"
Is your mood the same as mine?
Nobody knows time goes by.
---
風タチヌ
Compose/Arrange: 大嶋啓之
Lyrics: interface
Vocals: 茶太
もの言わぬ君の ことばに僕は
ああ ひかれて
悲しそうな君の ほほえみが僕を
まだ とらえて 放さない
息はすこし荒く ふるえた両手で
君は 思い出を 追いかける
あの音がなくなって くるめく時は去って
ふたりだけを残して ほかには誰もいない
ふれられぬ距離で 君だけを見てる
目を 閉じても 変わらない
たわむれに姿を 消してみせようか
君は 僕の名を 呼ぶだろうか
あの光がなくなって 行き交う影も消えて
ふたりだけを残して ほかには誰もいない
僕は君のためにつくられ 君を回りつづける
何もできず 何もかよわない
さびしい 苦しいなんて
すこしは 聞きたかったのに
音が 光がなくなって やがて熱も忘れて
何も見えず聞こえない 透きとおった息づかい
ああ 僕はひとりで ふたりだけの時間を
そのすべてを抱えて 君のあとを追いかける
---
amrita
Compose/Arrange: 大嶋啓之
Lyrics: interface
Vocals: 茶太
枯れている森を つつむ雨
濡れている落ち葉に 咲く人影
ほんの少しの過ち 欲望たちが
積みかさなり この森を染めた
※
星が流した涙 悲しみのアムリタ
本当の終わりがここに ないことを分かっていた
いつまでも続く 雨
よこたわる けものたちの声
いつまでも そこに残る問いかけ
遠くとおく どこまでも続いている
砂漠 足跡 降りやまぬ雨
星が抱えた痛み 染まらないアムリタ
くり返し くり返し聞こえる 水の音 砂の軋み
浮かんでは消える 影
※ くり返し
いつまでも続く 雨
まるで 砂漠のよう
浮かんでは消える 影
そこに在る アムリタ