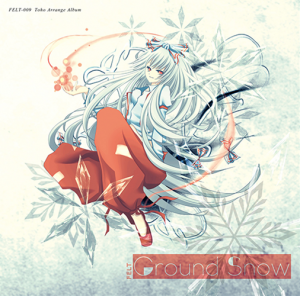 Track List
1. Snowy field / NAGI☆ / Original
2. Roll Ground / NAGI☆ / 美歌 / 舞花 / 東方永夜抄 / 月まで届け、不死の煙
3. Liminality / Maurits"禅"Cornelis / Renko / Vivienne / W.nova / 東方花映塚 / 彼岸帰航~Riverside View
4. a wonderful moon / Boyz party / 大空魔術 / 向こう側の月
5. Disorder! / Maurits"禅"Cornelis / 東方永夜抄 / Eternal Dream~幽玄の槭樹
6. Dream in the Night / Maurits"禅"Cornelis / Renko / Vivienne / W.nova / 東方星蓮船 / キャプテン・ムラサ
7. Total Strain Theory / Maurits"禅"Cornelis / 東方妖々夢 / 大空の花の都
8. no more cry / Boyz party / 東方神霊廟 / 死霊の夜桜
9. inside / NAGI☆ / 東方文花帖 / レトロスペクティブ京都
10. Under Empty / NAGI☆ / 美歌 / 東方文花帖 / レトロスペクティブ京都
Songs composed by ZUN (上海アリス幻樂団)
Produced by NAGI☆ (FELT)
Illustrations & graphic design by AO

---
Roll Ground
Arrange: NAGI☆
Lyrics: 美歌
Vocals: 舞花
沈む夕陽が はじまりの合図のようで 背すじを伸ばす
終わりのない退屈な日々 新しい風に ふいに出逢うの
現在を確かめるように
澄んだ夜空を 泳ぐ 星だけが 僕を知っている
ナミダ 溜息 隠してくれたね
ツヨク 望み抱いた 愛を呑み込んで
君に 残した 白い光に託そう
ついた 嘘の数だけ 息を止めたなら
君へ 溢れる想いの 一つは伝わるかな
誘うような 紅い雲を眺め あの星を想う また今日も
さよならと告げた 瞬間から 僕らは きっと はずむ心
失くしてしまったんだよ
読み合う 互いの 理想はぼやけて
答えを探っては 独りよがり だったのかな
何も恐れのない この未来こそが
僕を 小さな部屋に 閉じ込めているの
蒔いた 秘密の種 夢で咲かせては
君に 話してみたい 物語を作ってた
ツヨク 望み抱いた 愛を呑み込んで
君に 残した 白い光に託そう
ついた 嘘の数だけ 息を止めるから
君へ 溢れる想いは こみあげる想いは
どうか 消えはしないで
---
Liminality
Arrange: Maurits"禅"Cornelis
Lyrics: Renko
Vocals: Vivienne
Chorus: Vivienne & W.nova & Renko
Some days feel like nothing.
The winds come and gently pass me…
And so I feel alone.
Lately, I've been wondering.
But what could it be, I'm finding…
Something's probably missing inside me.
Wanna hold you close.
Take you everywhere.
Life's too short to care.
Yet, it's not a game.
Lift your hands to break
Liminality.
(※1)
No matter what the others have said
Or the lies we all have read.
Just turn around
And you'll be found in time.
(The magic is still inside.)
Don't mind the pain. In the end, it might be somewhat strange.
You're not alone. Not on your own.
Just break away…
Maybe I was careless.
But that's what makes us human.
And so, we learn from it.
Sometimes I get blinded.
And yet I can't stop from trying again.
Every thought begins to drive me.
Come and count to three.
Open up your mind.
Letting out your dreams.
Reaching to the stars.
Open up and soar.
We'll go anywhere.
(※2)
But even if we're torn far apart,
You know you're still inside my heart.
Though life is hard,
You offered up your hand.
(I'll always be waiting here.)
"Wish you were mine…"
Were the thoughts I had inside.
I don't know when I'll see the end.
It fades away.
(※1)
(※2)
---
Dream in the Night
Arrange: Maurits"禅"Cornelis
Lyrics: Renko
Vocals: Vivienne
Chorus: Vivienne & W.nova & Renko
The twist of time keeps on guessing 'round me.
And fate keeps knocking at the door,
Excitement on the floor.
Go whoa-oh-oh in the night,
It's deep inside.
I can't resist it.
It's fight or flight with a new dimension.
We think we've got no other choice.
We've never been so sure.
I'm set on fire in the sky.
Within your eyes,
Lightning strikes my core.
Giving up just to realize
Our goals had fallen from sight.
But even so, it's quite all right and yet
Rising up just to be aware.
We should have just tried to share
A world with passion
In a way we could seal the despair.
Baby, bring it.
Come and dream it.
Let's believe it.
Gonna break down the walls here.
Compromising.
Start deciding.
Reuniting.
Raise it on high! Oh!
Let's be honest.
You just want it.
Get into it.
And my heart's within you.
Let's just do it.
Nothing to it.
Close and lucid.
Dreaming inside. Ah…
---
Under Empty
Arrange: NAGI☆
Lyrics/Vocals: 美歌
憂い顔で 見慣れた道を
行く人に重ねた
霞む淡い 記憶眼差し
手の届かない
恋のように
寄り添う 泪の後は
全て忘れるほどに 心
晴れ渡り 笑えているよう
遠くても 近く感じるときでも
下ばかりを向いた夜に
ぼんやり水面に光る
星はいつも 僕を照らした
消えては宿る
夜露のように
芽生えて 蕾をそっと
暖めながら 歩いてきた
一人きり 街を見下ろす
いつか咲く花抱え 明日も また
流れる 泪の後に
鮮やかな花びらが ひとひら
晴れ渡る 心に舞った その景色
出逢い 描いてみただけ
広い 広い 空の下